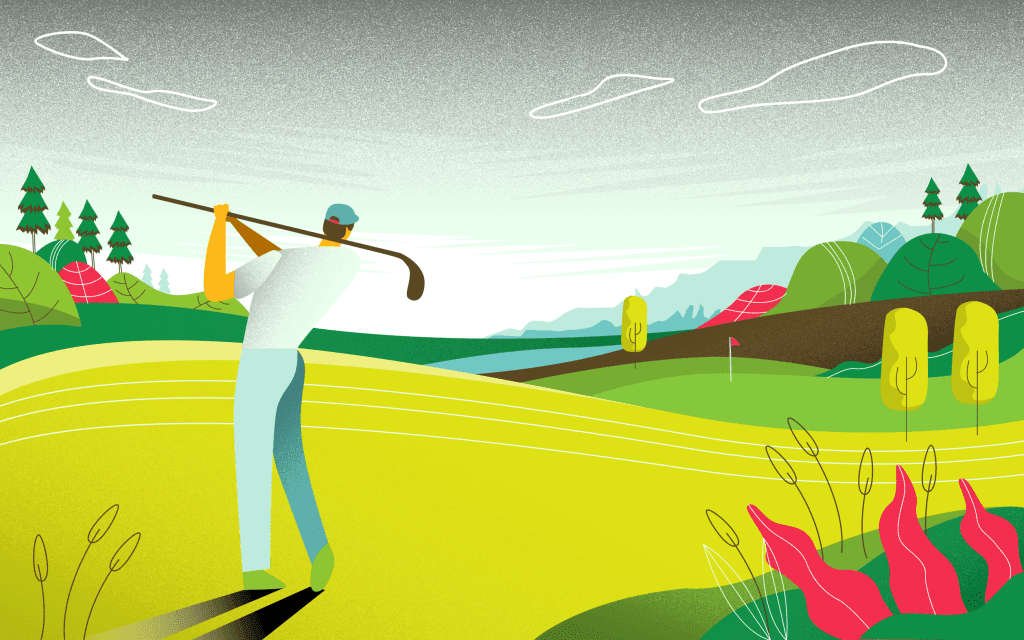 Best Golf Simulator Projector Reviews For Short Throw Projector
Disclosure: We may get a small commission when you shop by clicking on the links on our site. This is at no additional cost to you. Learn more.
Projectors range in resolution, size, distance to the screen (throw), connection types, and other technicalities. Indoor golfers need just as much quality from their projectors as a gamer or movie aficionado. Input lag and display quality are vital components for every indoor golfer. Reduced lag allows you to see the ball's flight as it occurs, and quality helps immerse you in the game with realistic visuals.
Golf simulator projectors offer frequencies of 60Hz up to 240Hz. Some have resolutions of 4,000 pixels (4k), while others are 1,080 pixels (1080p). [1]
There are so many options it becomes hard to choose. What do you look for, and what determines which one is better? We've put together the best projectors for golf simulators to help you make this critical decision.
Best Overall Pick


Ultra-low input lag of 4.2ms
Reduced input latency for accurate display
10W speakers for sound clarity
Reasonable pricing for quality
---
Our Favorite Picks for Golf Simulator Projectors
---
6 Best Golf Simulator Projectors For Your Home Golf Setup

Image

Product

Purchase

Optoma X318ST

Highest price-to-quality ratio
Low throw ratio of .4.2 ms
80" screen at a distance of 3' 4" (4:3 aspect ratio)
Designed for simulators

ViewSonic 1080p Projector with RGB

Ultra short throw for the resolution
Streaming capability enhances the projection

Optoma CinemaX P1 4K UHD

4k resolution for ultra-clear video
Ultra short throw for the resolution
Streaming capability enhances the projector
---
Find Out What Makes These Models The Best Golf Simulator Projectors?
---
1. Optoma UHD38: #1 Overall Pick


Product Specifications and Features
4,000 Lumens
240 Hz refresh rate
Resolution 1080p (with 4K input)
3D-capable (glasses required)
Smartphone connectable via MHL
Dimensions 12.44" x 9.61" x 4.25"
Weight 7.70 lbs.
---
Setup
User-Friendly
---
Description
The Optoma UHD38 is not the #1 golf simulator projector on the market today. However, it is a capable little unit that gave us an excellent experience in our simulator. The projector displays an older resolution, but that doesn't mean it was a poor visual experience. Quite the opposite — this little jewel displayed our simulator at 1120Hz without a problem, with a clear, no-lag image.
The throw distance for this projector is 3'4", which is not the shortest we've seen, but not the longest either. The distance still gave us plenty of swing room and maneuverability in our simulator action area. The colors were bright, but not so bright that they looked fake or too intense.
Overall, this is a fantastic little projector that has earned our respect based on its performance and price. If you are building your own and on a budget, look no further than this golf simulator projector.
What We Like:
Lightweight, ceiling mounted
Smaller than others
Lower price than most
What We Don't Like:
Lower resolution than many other projectors
---
2. Optoma CinemaX P1 4K UHD: Overall Runner-up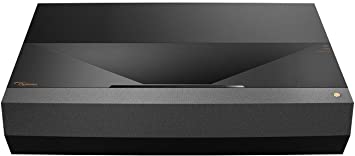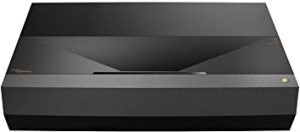 Product Specifications and Features
3,000 Lumens
4k UHD Laser Projector
1,500,000:1 contrast ratio
120" (10') image from 14.5" away
Dolby 2.0 sound with crisp voice clarity
Voice assistant (Google, Alexa) compatible
Dimensions 22.10" x 15.0" x 5.1"
Weight 24 lbs.
---
Setup
User-Friendly
---
Description
Optoma is known for projectors used in golfing simulators. This projector is one of the top high-end models we have found, and we think it is one of the best projectors for a golf simulator available today. We found this projector to have the highest quality simulator visuals available. You'll truly feel as if you're outside when you swing and watch the ball soar in the 4,ooo pixel resolution. We found ourselves losing track of time as we tested this model on our simulator.
Game mode ensures that your simulator runs at low latency [2], with an input latency close to 49 ms. The low latency allowed us to see the simulator action in real-time. As we swung our club, the ball on screen took off in perfect sync.
The only disappointment we experienced with this otherwise phenomenal projector is the lack of a ceiling mount option. In some simulators, this can be a problem. However, if you build your own, you can design it to have a golf simulator projector box on the floor to enclose the projector. Alternatively, you can find a ceiling mount for a non-ceiling mountable projector.
What We Like:
Ultra high definition for clear video quality
High contrast ratio
Ultra-short for close-to-screen mounting
What We Don't Like:
Price is very high
Simulator system must support 4k resolution
---
3. ViewSonic PX706HD Gaming: Value Runner-Up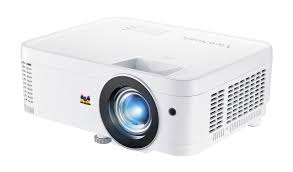 Product Specifications and Features
1920 x 1080p resolution on up to a 300" screen
3,000 Lumens for a bright picture
20,000:1 contrast ratio
16 ms latency for simulators and gaming performance
Throw range: 3' to 7.2'
Dimensions 4,53" x 11.53" x 8.66"
Weight 5.95 lbs.
---
Setup
User-Friendly
---
Description
ViewSonic, long known for its computer monitor line of products, has also been making projectors for many years. It should not be surprising then that we have a gaming projector lined up for a golfing simulator projector review.
ViewSonic's PX706HD Gaming projector impressed us with its features: A 300" screen at 1080p resolution and 16 ms of input latency is phenomenal. You could play the latest video games on this projector without any problems.
The PX706HD mounted right into our (now multi-position) ceiling mount; we plugged it in, adjusted a few settings, and were on a course swinging. We mentioned in the pro and cons that there is a lowly refresh rate of 60Hz on this projector — after viewing higher hertz projectors, we may have become spoiled. The picture and quality are excellent.
The projector comes with various modes — we found the gaming mode worked best for our simulator, while the movie mode worked well for all other applications (if you plan to use it for anything else).
What We Like:
Lightweight for upside-down ceiling mounting
Full HD at up to a 300" screen
Latency optimized for gaming and simulators
Easy to set up
What We Don't Like:
Lower refresh rate of 60 Hz at 1920 x 1080
---
4. Optoma GT1989HDR: Best Golf Projector Under $1,000

Product Specifications and Features
3,800 Lumens
6-segment color wheel
HDR10 technology
50,000:1 contrast ratio
15,000- hour lamp life
Dimensions 12.4" x 9.5" x 4.5"
Weight 8.83 lbs.
---
Setup
User-Friendly
---
Description
With a price tag of under $1,000, the Optoma GT1989HDR projector sure packs a punch. The image quality is so high we could almost see the ants crossing the green. This projector has the lowest latency time we have seen in a projector at 8.4 ms. This means that only 8.4 thousandths of a second elapse before the ball on the screen takes flight when you hit the ball. Many gaming monitors run at close to this response time.
The very high contrast ratio, number of colors, and a 4,000-pixel horizontal resolution give this projector an amazing image so realistic that you might try to walk down the fairway.
So, we love this projector. Is there anything wrong with it, you ask? Why, yes, there is. There are so many options and settings that someone unfamiliar with projectors and image type or quality lingo will be quite lost. There are 13 presets built-in, along with a plethora of other color, brightness, and quality settings.
What We Like:
10-watt speakers bring the simulator to life
15,000-hour lamp life
Multi-connectivity capabilities
What We Don't Like:
The many options can confuse the user
---
5. Optoma HD146X: Most Affordable Golf Projector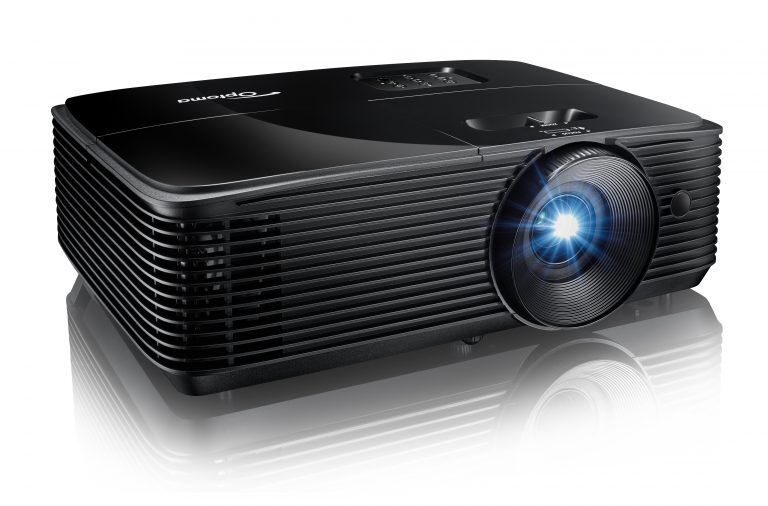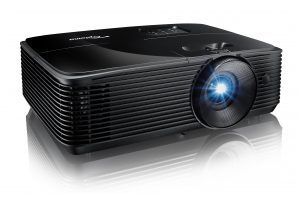 Product Specifications and Features
3,600 Lumens
1080p with 4k compatibility
95% Rec. 709 color
25,000:1 contrast ratio
Input lag 16ms at 85Hz
Dimensions 5" x 12.4" x 4.3"
Weight 6.2 lbs.
Aspect ratio 16:9
---
Setup
User-Friendly
---
Description
The Optoma HD146X is built for gaming — the low response time combined with the 4k HD video provides you with a clear and quick image on the screen. However, there is an elephant in this proverbial room; the throw distance is quite long compared to other projectors in this review. According to one of our favorite projector websites, to achieve a 100" screen, we needed to place this projector at 11' 2", while an 80" screen needed almost 9'
This projector's price is one of the lowest you can find and still get excellent video quality. Once we got it set up in the back of our simulator room and moved our setup around to keep from casting shadows on the screen, we were quite pleased with the results. The picture, colors, and input response time were all on par with all of our other favorite projectors.
The HD146X is a powerhouse for the price tag. If you have enough room for it, this is an excellent, lower-priced projector.
What We Like:
Projector is ceiling mountable
Higher lumens allows for more light in the room
Gaming mode enhances shadows and dark scenes
Multi-connection capability
Price is more affordable
What We Don't Like:
Longer throw needs a bigger room
---
6. ViewSonic 1080p Projector with RGB: Best Rated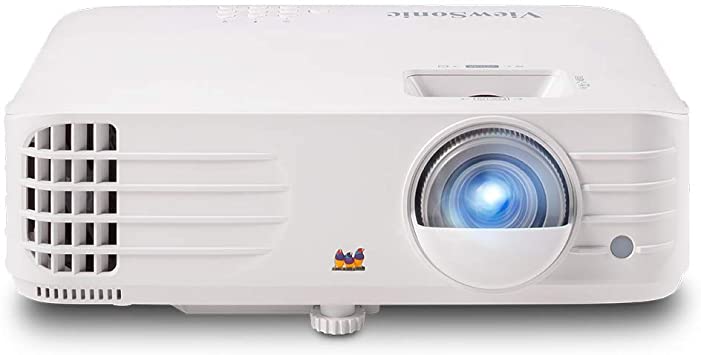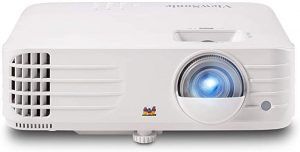 Product Specifications and Features
2,000 Lumens
1080p full HD Projector
10,000:1 contrast ratio
120" (10') image from 14.5" away
Dimensions 15.28" x 17.09" x 6.02"
Weight 13.37 lbs.
---
Setup
User-Friendly
---
Description
The ViewSonic PX800HD impressed us enough after setting it up that we had to make it our top choice. We set up the projector at two and a half feet away from the screen and received a 146" display in 1080p. There are more expensive projectors available, with quite a lot more features included. However, this large, sturdy projector fits in smaller simulators and has an incredible 16 ms response time.
We noted in our pros that there is no 4k resolution available in this projector. We don't believe it is needed. The projector sits so close to the screen that the image is comparable to 4k, close to half the 4k projector's price. It has 2 10-watt speakers that sound clear and loud and accepts 3 HDMI inputs. It supports most gaming consoles, mobile devices, Macs, PCs, and media players.
With this model, there is no need to wire in a home speaker setup. The 2 built-in 10W speakers deliver plenty of crystal clear sound, even to a larger room.
It would've been hard not to recommend this as our top pick. It's durable, delivers high-quality and realistic visuals, cinematic colors, reduced lag, and it does it all at an extremely reasonable price point.
What We Like:
High definition for clear video quality
High contrast ratio
Ultra-short throw for close-to-screen mounting
No 4k resolution – not needed
What We Don't Like:
Price is high
No 4k resolution
---
Conclusion
Nothing beats a day on the course — except a day of golfing when no one else can golf. Golf simulator projectors take a great experience and turn it into an amazing one. When you have the top golf simulator projector, the experience is unrivaled and possibly even better than the real thing.
The ViewSonic 1080p Ultra Short Throw is incredible. It comes with a lower price tag compared to comparable models, and the ultra-short-throw and stunning home theater graphics will bring your indoor golfing experience to a completely different level.
The 2,000-lumen light brings an ultra-bright screen (you don't need more lumens [3] when the projector can sit this close), while the 10-watt speaker immerses you in the sounds of your simulator, movie, streaming, or gaming should you choose to use it for multiple purposes.
We tested some incredible projectors for this review, but in the end, we can't help but love everything about the ViewSonic 1080p Ultra Short Throw. It truly brought the course to us.
Best Overall Pick
Optoma UHD38


Projectors for Golf Simulators Overview
What does a projector aspect ratio mean, and what should you look for?
The aspect ratio is the relationship between a display's width to height. The first number represents the width of the display, and the second is the height. Thus, if a display had a 1:1 ratio, the width and height would be precisely the same, displaying a square. A display with an aspect ratio of 24:12 is twice as wide as its height, creating a widescreen appearance.
Two of the most prevalent ratios for golf simulator projectors are 16:9 and 4:3. With a 16:9 aspect ratio, you get a display that is close to twice as wide as it is high. A 4:3 ratio is less wide and projects more of a square-looking display. Both ratios can display high-resolution graphics and video.
Your choice of aspect ratio should depend on the screen your projector will project on. If you have the room for a wider screen, a 16:9 ratio will work for you. However, if you're limited on size or prefer a more square sim projection, a 4:3 ratio with high resolution will look just as great.
What do Projector lumens, contrast, and brightness mean, and what should I look for?
Lumens is the luminosity, or brightness, of the projector. In technical but straightforward terms, it measures the amount of light a source puts out. To relate lumens to a well-known measurement, a light bulb of 60 watts is similar to 800 lumens.
If you are in a sunlit room and your 800-lumen light bulb is on, it is probably overpowered by the sun. Direct sunlight in an open area is around 6,000 lumens — so a sunlit room might be between up to 2,500 lumens. Your projector luminosity should be higher than the amount of light coming into the room.
Brightness is the intensity of the light coming from the screen. Screen brightness settings determine how bright all the colors are on your screen. The contrast ratio is a ratio of the most brilliant white to the darkest black on the screen. The higher the contrast ratio, the more pronounced the difference in lights and darks will be on your screen.
You should choose a projector that can give you the most amazing lighting for your simulator room; you should also look for brightness adjustability and a contrast ratio that will make darks and lights stand out in that room. A bright room might need a 1,500,000:1 contrast ratio, while a low-light room might only need 50,000:1.
What is a short-throw projector, and why should you use it for a golf simulator?
The throw is the distance measured from the lens of the projector to the screen. A short-throw projector allows you to mount or place the projector closer to the screen. Projectors come in ultra-short, short- and standard-throw options.
The throw of the projector determines the size of the room you need for your simulator. The throw is measured in metric or standard units and can be advertised as a ratio. The ratio is the throw distance to the projected width. The highest ratio (shortest throw) we've seen is a .23 — a 120" diagonally measured screen at 2'. A standard throw projector can have a throw ratio of 1.47 – 1.62 — a screen size of 120" at a throw of 13' 5".
Smaller rooms require a higher ratio, while larger rooms can accommodate ultra-, short- and standard-throw ratios. You can check out our review of the best golf simulator screens for your projector.
Can I use any projector for a golf simulator?
Any projector can be used for a golf simulator. You should be aware of all of the previously mentioned properties and ensure the projector fits your design. Input lag — also known as response time — can be a problem with generic projectors. Input lag is the time between an action's initiation and the displaying of that action on-screen.
Generic projectors may have a higher response time, lower contrast ratios or brightness, less luminosity, or fewer options. Ensure you know what you are getting when you purchase your projector.
If you're planning to build your own golf simulator, you can read our article for indoor golf simulators for home for more ideas. You can also read our best professional golf simulator review for more info.
If you're interested, check out our article for the best affordable simulators in the market.