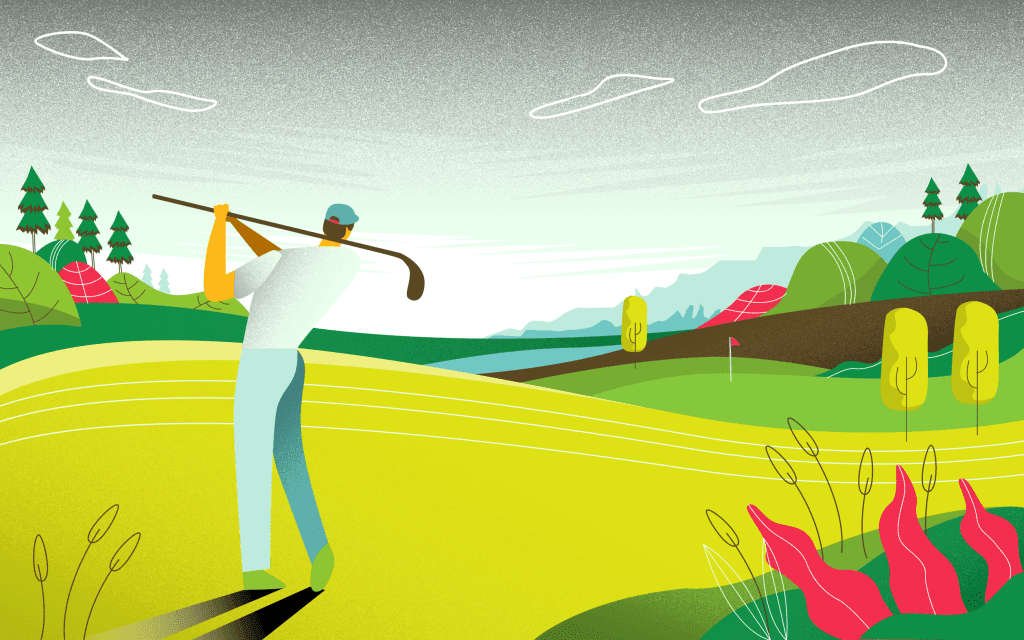 Best Golf Simulator Screen & Enclosure Reviews: Find The Highest Quality Impact Screen For Your Projector
Disclosure: We may get a small commission when you shop by clicking on the links on our site. This is at no additional cost to you. Learn more.
Deciding on a golf simulator enclosure kit can be difficult. You need to consider features such as software, launch monitors, and hitting and landing pads. However, finding the right screen and enclosure ensures that you protect your walls while you play, especially if you've ever had a ball go between the screen and the net.
The best golf simulator screen creates a long-lasting and realistic setup that can last you through years of use. It should be durable and bright enough to create a vibrant simulation experience. Reducing the bounceback of your ball is also important for safety.
We tested the most highly rated golf simulator screens and enclosures available. Here are the top contenders for you to peruse so you can find the perfect setup for your home.
Best Overall Pick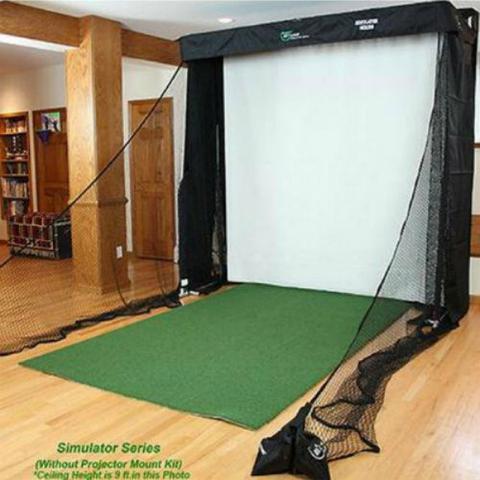 Reasonable price
Quick setup and takedown
High-quality build and appearance
---
Our Favorite Picks for Screen and Enclosure
---
3 Best Golf Simulator Screens & Enclosures For Your Home

Image

Product

Purchase

The Net Return Simulator Series Projector Screen & Netting

Floating screen design
High-density netting covers the bay and rear of the screen
Stores and transports with included carrying bags

SIG10 Golf Simulator Screen

Designed for a projector to fill the entire screen
Engineered for 250 mph ball impacts
Assembles in less than an hour

HomeCourse Pro Retractable Golf Simulator Screen Enclosure

Small space requirement for convenience
Energy absorbing impact screen
The price is lower than comparable golf enclosures
What To Consider Before Buying?
Should I Worry About Screen Quality or Picture?
Exchanging screen quality for picture quality might be a consideration for you when deciding on a price. Generally, the tighter the weave on the screen, the higher quality image you'll see on it. Higher quality usually leads to higher pricing, so when you decide on the screen you want, you should determine what you can afford first and then purchase the right screen and golf simulator projector for your needs.
Is Screen Durability Due to Constant Ball/Shot Impact an Issue?
Golf balls can travel at tremendous speeds — governing bodies have issued a rule that balls shouldn't travel faster than 161 mph. If you have a good swing, you might reach speeds above this, so an impact screen has to be able to take the force of the impact repeatedly.
Some screen makers triple the layers on a screen while others double it. The number of layers, as well as the weave tightness, can have an impact on the life span of your screen. Carl's Golf DIY kits have screen options that allow for ball impacts of up to 15,000 in number. Average golfers won't need this much and should stick to one of the medium impact counts, such as 5,000 or 10,000.
Your screen wears down the more impacts it takes. It stands to reason that you should consider your screen's durability and the number of shots you will take when considering your screen purchase.
What is the best size screen for a golf simulator?
The aspect ratio determines the size of your screen's width to its height. A ratio of 4:3 is similar to the televisions and monitors of the past. The height and width are more square, so more of the vertical picture is visible. A newer (relatively speaking) aspect ratio of 16:9 gives you a wider image on-screen.
Choose a screen designed to display the ratio of the projector you choose [1], or vice versa. If your screen and projector aspect ratios do not match, you will have white borders around your image, or your image will not fit the screen.
For example, a 4:3 ratio image might fit on a screen designed for a 16:9 image, but the size will be reduced, and there will be white borders on the sides. Conversely, a 16:9 image on a 4:3 screen will be reduced but have white borders on the top and bottom.
What Is The Function Of An Enclosure?
An enclosure surrounds the screen and prevents other light sources from impeding on your projected image. While it is unnecessary to have an enclosure, you may have trouble seeing the picture if your room is on the light side. If you can keep your room dark, you may not need an enclosure.
How long do golf simulator screens last?
Good quality golf simulator screen can last you a very long time and also provide a very realistic golfing experience. The impact screen for golf simulators need to withstand constant impact to them and reduce bounce backs for your safety. Our effort in testing and reviewing the top simulator screens and enclosures is to give you great quality simulators that will elevate your indoor golfing experience.
How Much Does It Cost?
Golf simulator equipment is not cheap. Even the lower-end models are expensive for all but a few golfers. When you are putting together your simulator build, the budget is the primary concern. It helps to make sure you know what each piece of simulator does and what its limitations are. This can help you plan your build within your budget and get the most from your money.
---
Golf Impact Screen & Enclosure Reviews
---
1. The Net Return Simulator Series Projector Screen & Netting: Top Overall Choice
Product Specifications and Features
5" tubular aluminum frame
Golf hitting bay frame is 8.8' x 8.1' x 3.5'
Accepts 1920 x 1080 screen size with 16:9 aspect ratio or 4:3 with adjustments
Withstands 200+ mph impacts
High-density polyester netting
Sandbags included
---
Setup
User-Friendly
---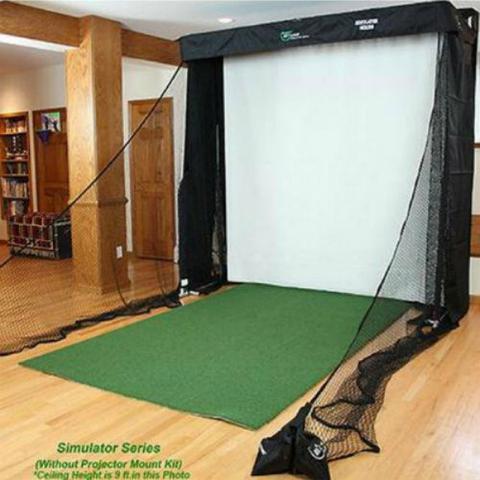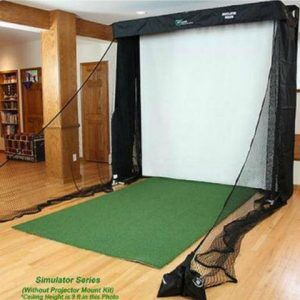 Durability
The Net Return is equipped with 1.5 " Tubular Aluminum Powder Coated Frame for a strong, reliable game. The whole bay is sewn with high impact netting that can hold out against ball speeds of up to 225 mph. It's made with white polyester fabric that can withstand even the strongest drivers.
Aspect Ratio
It is designed wide enough to minimize ball rebound. Its 10′ wide x 8'10" tall x 3′ 6″ deep screen prevents balls everywhere. Errand balls will always stay within the hitting area thanks to its side barriers.
Description
The Net Return indoor golf hitting bay is designed for almost all indoor golfing situations. The designers thought of everything. Usually, a stray shot placed just right could go in between the enclosure and screen and cause damage. Not so with the Net Return because the UV-resistant polyester [2] netting surrounds the entire enclosure and has high side walls to add extra protection.
We said almost all situations because there are 2 minor issues we found. First, the size of this enclosure and screen is too large for many golfers. Many ceilings in older homes are 8' high, leaving any golfer with short ceilings out in the rain.
Second, we think the mat should be included. This isn't a deal-breaker, but the mat would be a nice touch for the price we paid for the enclosure. However, even without the mat and the unit's size, we believe this is the finest golf simulator enclosures kit with the quality of design and the little thought behind the build.
What We Like:
Approximately 15-minute setup
Netting behind screen
Portable and reduced size
What We Don't Like:
Only the golf simulator enclosure is included
Too big for smaller rooms
---
2. SIG10 Golf Simulator Enclosure & Screen: Overall Runner-Up
Product Specifications and Features
Minimum space required – 12' x 16' x 9'
4:3 aspect ratio fills the screen
Tight-knit polyester screen
The enclosure comes with side barrier netting and sandbags
---
Setup
User-Friendly
---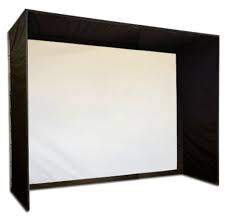 Durability
The Sig10 is built tough and constructed with premium materials to withstand golf ball strikes up to 250 MPH and displays HD quality for a better game play. Intended to allow the image to fill in 100 percent of the screen, not at all like other screen enclosures where there is white spaces at the top and base.
Aspect Ratio
Frame dimensions 10′ x 10″ width, 8′ x 4″ height and 5′ depth. The recommended space should be 12′ width, 16′ length and 9′ height for a better game play.
Description
Our second choice of golf simulator enclosure kits is the SIG10. Designed for use with the SkyTrak SIG10 simulator, it can be used with any other simulator setups that use a 4:3 aspect ratio projector. We had to use our large storage space to set this up due to the room size requirements. The full setup is 16' long and isn't collapsible — when you set it up, you generally leave it up.
The steel frame is powder-coated and robust, and the golf impact screen is hung from the frame by bungee cords. The bungees increase the impact reduction of the screen, increasing absorption of even the hardest-hit ball. Our simulator is equipped with a 4:3 projector — we were pleased to see that the entire image fit the screen as advertised and had no borders.
The enclosure and side barriers attach and form seamless protection for your room — and any observers — in case a shot isn't entirely where you thought it was going to go. If you have the space for this golf simulator impact screen and enclosure, it is one of the most amazing golf simulator enclosure kits.
What We Like:
Powder-coated steel frame
The screen is attached with bungee cords
Black nylon surrounding enclosure
What We Don't Like:
Size can limit the rooms it can fit in
It is priced higher
---
3. HomeCourse Pro Retractable Golf Simulator Screen Enclosure: Best Value
Product Specifications and Features
Minimum space required – 8′ x 10′ x 8′
8' x 10' screen size accepts 16.9 aspect ratio projector
Ballistic material quality screen
Enclosure included, built from a durable mesh
---
Setup
User-Friendly
---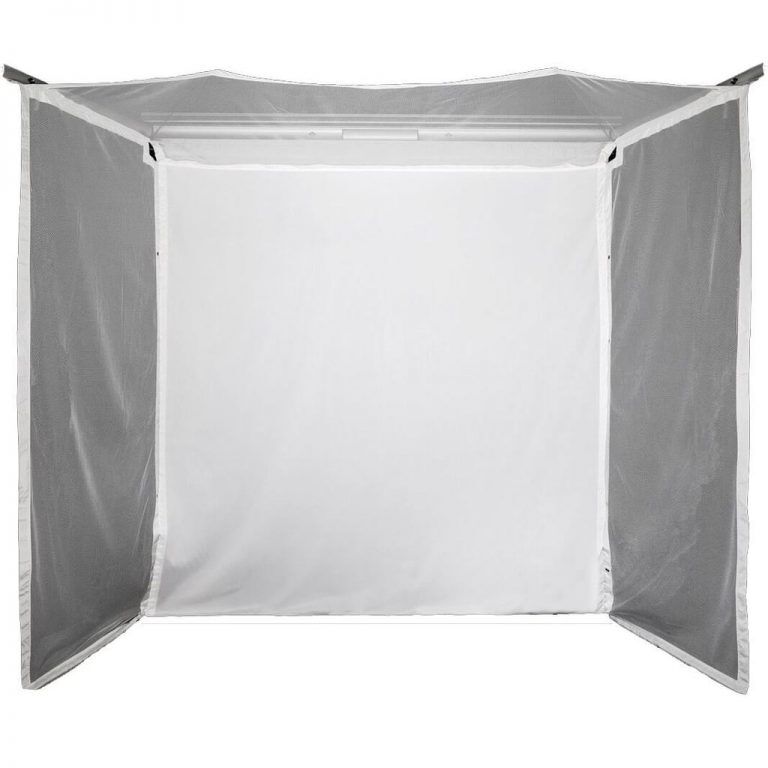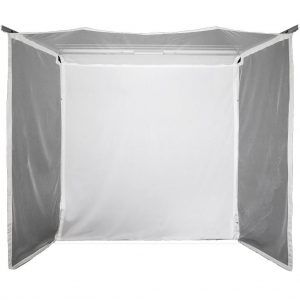 Durability
HomeCourse Pro is made with a ballistic-grade material. This screen is designed to absorb the impact of a golf ball hit by a full-swing shot at numerous occasions.
Aspect Ratio
With the HomeCourse Pro, you can turn any space virtually that is 8'H x 10'W x 8'D into a home golf insight. Also, it is recommended to have a little bit of slack so the ball rolls back to you after you hit it.
Description
We found the Homecourse Pro Retractable to be very simple to set up and use. The wall mount kit wasn't required, but we got one for this review anyway to determine any problems. The unit mounts to the ceiling — or the wall with a mount purchased separately — and is not too hard to mount with a stud finder, drill, and screws.
Once the unit was up, we placed the landing pad down and began swinging. The golf simulator impact screen worked just as advertised, and we had no impact problems. When we finished, we folded up the netting and retracted the screen without issue.
The wall-mount installed just as easy, using the same tools. We set up, then fired up, our projector and simulator — and found no issues either. After a day of setting up, using, and taking down the unit, we can honestly say we encountered no problems at all — which leaves us concluding that for the price, time, and space required, this is the top value golf simulator enclosure available.
What We Like:
Enclosure extends 3' from the golf projector screen
No minimum distance from the screen for the golfer
Long-lasting rechargeable lithium-ion battery
Retractable golf simulator screen
What We Don't Like:
No landing pad included
Wall mount kit is not included
---
4. SwingBay Golf Simulator Screen & Enclosure: Runner-Up For Most Value
Product Specifications and Features
Minimum space required – 9' x 12' x 16'
Accepts 4:3 aspect ratio projection
Tightly knit fiber, bungee-mounted screen
Enclosure constructed from commercial-grade polyester
---
Setup
User-Friendly
---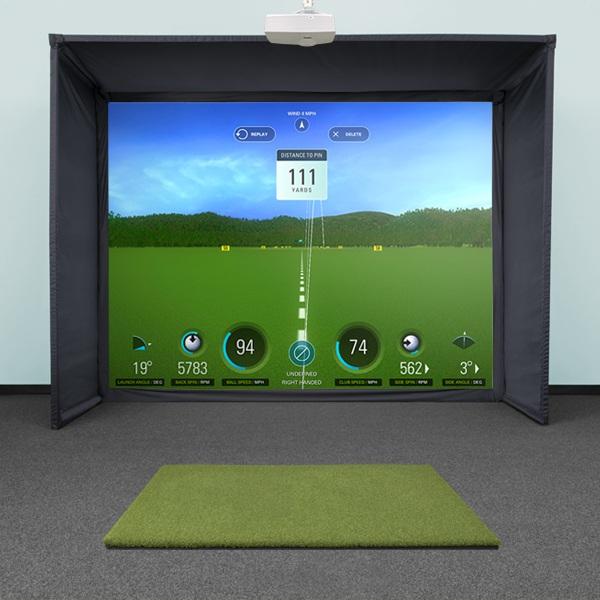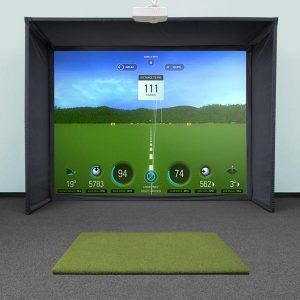 Durability
Swingbay is made to endure great many shots at up to 250 miles each hour. Firmly woven fiber material improved for a smooth projection. The recommended projector should have at least 3000 lumens.
Aspect Ratio
With dimensions of 10'x3″ width, 8′ length and 4'x8″ depth and a recommended room dimension of 12′ width, 9′ length and 16′ depth to ensure premium golf simulator experience
Description
SwingBay is another well-known name in the golf enclosures and simulator industry. This golf simulator projector screen and enclosure is one of the most high quality make we have found so far. The golf simulator hitting screen is made from a tightly woven fiber to provide an excellent picture quality and resistance to high-speed impacts.
The enclosure is made from aluminum for strength, and the fabric is commercial-grade polyester — giving it the strength it needs to withstand a ball impact from a stray shot. While this enclosure and screen took a beating, we found no shots ever ricocheted from the frame of the enclosure back toward us. However, some included side-netting would be an excellent addition for extra protection and safety measures.
The only other issue we had was that this impact screen for a golf simulator has a very large footprint. We had to set this up in our empty storeroom again due to the size. If you have enough room for this enclosure and can purchase some side-netting to go with it, you'll have one of the best golf hitting screens in the neighborhood. If you're interested, check out our reviews for the best golf hitting net to have more ideas on what kind of net to purchase for your golf hitting screen.
What We Like:
Easy to assemble frame
Enclosure reduces external lighting on the screen
Large screen for viewing
What We Don't Like:
Size requires a large room
No netting included
---
5. HomeBay Golf Simulator Hitting Enclosure: Best Affordable Screen & Enclosure
Product Specifications and Features
Minimum space required – 9' x 12' x 14'
1920 x 1080 16"9 aspect ratio projector recommended
Ballistically tested HD golf impact screen
---
Setup
User-Friendly
---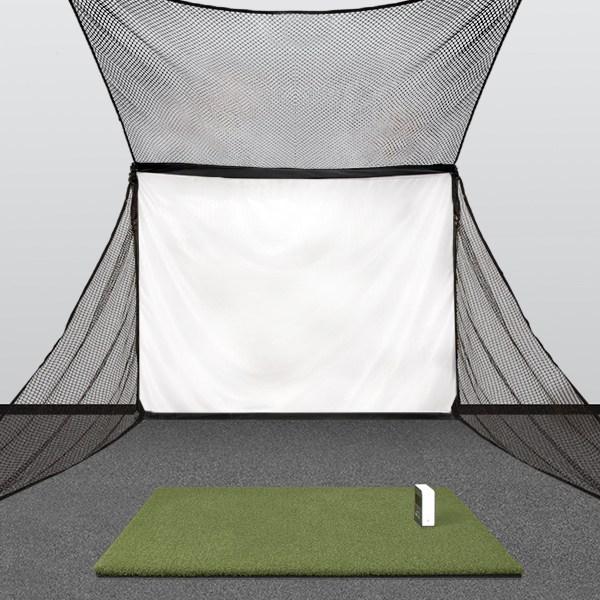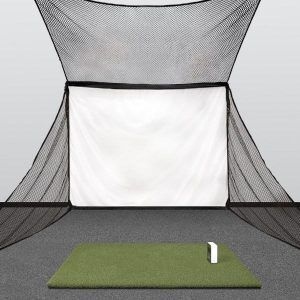 Durability
This portable and retractable golf enclosure allows you to turn any room back to its original form with its wireless, battery-powered design. This is made with balistic-grade material ensures longivity. Perfect for golfers of all levels the ability to learn, train, practice, or perfect their game anytime they want.
Aspect Ratio
Its a 8'H x 10'W x 8'D that can help you turn your space and enjoy a great home golf experience.
Description
The HomeBay golf simulator enclosure targets golfers that are not quite ready for a fully enclosed setup's price tag and footprint. This is a basic setup that includes a screen, ceiling and side netting, and the mounting hardware. The price reduces significantly without extras, but it does introduce a few minor problems.
We found that glare from any lighting reduced the picture's quality on-screen — not so much as to make it unplayable — but we noticed the image is lighter and a bit washed out. When we tried the screen in a very dark room or with lights positioned behind the screen, there were no issues.
We also found that the 2 points on top of the screen where the nettings meet produced a gap where a stray shot could get through. However, this only presents itself if you're further away from the screen. We didn't have any problems with this but were concerned until we found our closer proximity to the screen prevented it from happening.
Otherwise, this is an excellent purchase for a golfer needing a golf impact projection screen with netting on a budget.
What We Like:
Ceiling and side netting for stray shots
Large screen enhances viewing
Designed to be upgradable to the SwingBay enclosure and curtains
What We Don't Like:
2-hour setup
Light can be an issue
---
6. SIG12 Golf Simulator Enclosure: Largest Screen For Most Immersive Experience
Product Specifications and Features
12' widescreen
Minimum space required – 14' x 10' x 16'
Screen dimensions 11'5" x 8'7" x 14'3"
Designed for a 4:3 aspect ratio for no blank space
The enclosure is black nylon
---
Setup
User-Friendly
---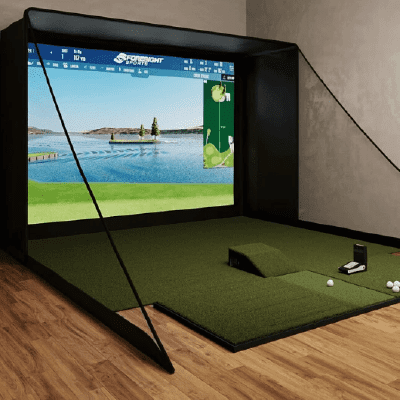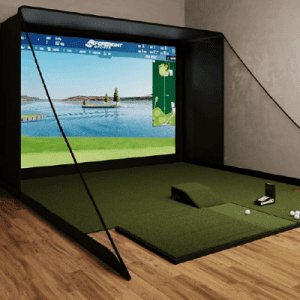 Durability
Tested and proven superior durability and competition. It delivers a reduced sound and bounce back. With double stitched black vinyl edges and grommets for a stronger and guaranteed to last longer.
Aspect Ratio
Overall, the Sig12 can fit into most spaces with its 11′ 5″ W, 8′ 7″ H, and 14′ 3″ screen but you may need more than 10′ high ceilings if your swing requires it.
Description
The most massive golf impact projection screen with an enclosure on our list is the SIG12. It needs a whopping 14' wide and a 10' high area to sit in. Many people just don't have that kind of space in their houses. However, if you do, this the best indoor golf hitting bay you can buy.
The quality of the SIG10 is present in its big brother, the SIG12. It is the same kit, but larger. The impact screen is rated to receive a 250 mph ball strike [3] and is made from the same woven polyester the SIG10 is. The golf simulator enclosure is expanded to 14' to allow for the bigger screen and broader impact area.
A bigger screen and impact area allows more room for error if you're having an off-day on the indoor course. For those days, the side netting is also included for additional room protection. We didn't need the extra size — this time — but found it much more immersive. The additional viewing area makes you feel more like you're outside, with a screen designed for HD graphics.
If you have the money for it, this is the best golf hitting screen and enclosure for the home you can find.
What We Like:
Large viewing area
Side nets are included
Dark enclosure prevents adjacent light source bleed
Nylon enclosure
Tightly woven polyester impact screen
What We Don't Like:
Large space requirement
Price is very high
---
7. Carl's Place DIY Golf Simulator Enclosure Kit With Impact Screen: Super Budget Friendly
Product Specifications and Features
Minimum room size depends on aspect ratio and size of the screen
The largest room requirement is 10' x 13' x 10'
4:3 aspect ratio yields the largest screen and least blank space
Optional enclosure depth of 5' or 10'
---
Setup
User-Friendly
---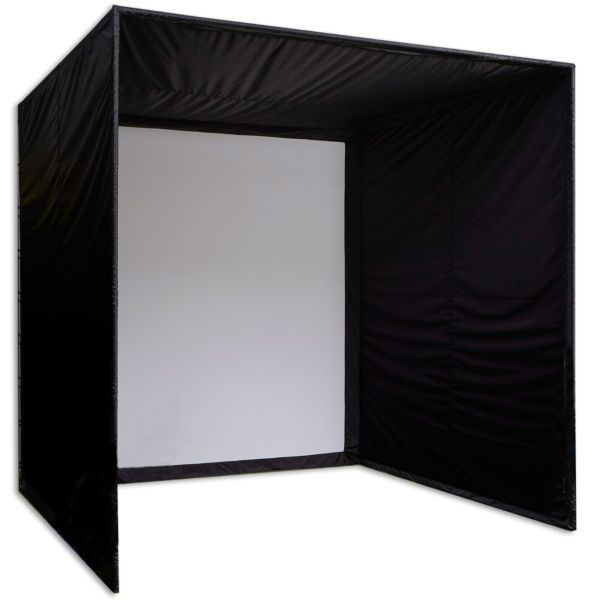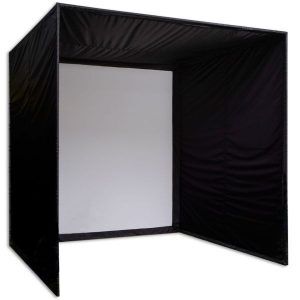 Durability
The Standard completed edge screen material is ideally suited for amateurs or novices and is a budget-friendly choice for a golf simulator that can take genuine golf ball hits up to 250 mph.
Aspect Ratio
Available in two standard depths (5′ and 10′) to match your style of play; great for for those golfers with limited space but predictable accuracy and the other is to protect your surroundings from even the worst mis-hits while casting a full shadow on the screen surface for a bright projection.
Description
Anytime you look at do-it-yourself builds, you should look closely at your needs and the lifespan of the device you're looking at. Carl's Place offers unique golf projector screens and enclosures that can make your project a little less expensive while keeping the quality you want.
Carl's has the top impact screen for golf simulators we have found. The premium-built screen option is a triple-layer, impact-resistant, woven polyester with a solid spacer in between layers. The triple-layer protection ensures a longer screen life — up to 15,000 shots — however, it does have a higher price tag. This top value screen is loosely woven heavy-duty polyester, which can take up to 4,000 shots. They have 2 more screen qualities available — one can take up to 5,000 shots and the other up to 10,000 shots.
We found that the sheer number of options makes this screen and enclosure an excellent consideration for someone building their own simulator or needs some cheaper options for replacing a worn HD golf impact screen.
Check out our do it yourself simulator review for more ideas.
What We Like:
Can vary the screen material for golfing needs
Variety of choices for screen and enclosure
Choices can make the kit either more affordable or expensive
Screen quality varies by rated shot count
Screen price varies by quality
What We Don't Like:
Lower impact absorption than other models
---
8. SIG8 Golf Simulator Enclosure: Best Mid-Range Screen and Enclosure
Product Specifications and Features
4:3 aspect ratio fills 80% of the screen
Minimum room requirements 9' x 10' x 16'
Tightly knit polyester screen
The enclosure is black nylon
---
Setup
User-Friendly
---
Durability
Outlined to match compact spaces unlike other enclosure systems that require more width or height. Made with premium materials, your SIG8 golf simulator screen displays in HD quality and is built tough to withstand golf ball strikes up to 250 MPH.
Aspect Ratio
Image fills in 80% of screen (with 4:3 aspect ratio) able to fit in most compact spaces. MAke sure to set it up in a larger space than the recommended.
Description
The little brother of the SIG10 and SIG12, the SIG8 is designed for smaller rooms —but it is not the smallest golf simulator enclosure available. It is the smallest of the SIG golf simulator impact screens and golf enclosures and fits many golfer's budgets and available spaces. The SIG8 combines a smaller size, the same quality, and a middle-range price tag that appealed to us.
In our now very used storage room, the SIG8 fit nicely and set up just as quickly as the 2 bigger golf simulator enclosures did. Like the others, we found that the enclosure blocks any light source not directly pointed at the screen, giving us an excellent quality picture. We had no problems with the ball impacting the screen, nor did we find anything else different from the larger models.
For the smallest of its impact screens for golf simulators, SIG could have reduced the size and price a bit more to attract golfers who would appreciate a simulator but don't necessarily have the big-budget and space for a larger one.
Check out our Skytrak golf simulator review to learn more about Sig8.
What We Like:
Fits smaller rooms
Steel quick-connect frame for durability
Bungee-mounted screen for impact absorption
What We Don't Like:
SIG should have chosen a smaller size for it's smallest product
---
Conclusion
The Net Return Simulator Projector Screen and Netting won us over. It has all the bells and whistles a golf projector screen and enclosure should have — a durable screen, a dark enclosure to block other light sources, and netting to snag those stray shots we all have. The system is also easily set up and taken down, and stored in bags for travel.
We especially like that, in addition to meeting the most needs, the Net Return impact screen for golf simulators and enclosure is offered at a price that is not unaffordable for most golfers. Furthermore, when the ball hits the screen, it flexes. The flexing absorbs the ball's impact and creates a surface for the ball to roll down, returning it to you.
If you're in the market for the #1 golf simulator enclosure and screen, the Net Return has all of the features you'll need.
Best Overall Pick
The Net Return Simulator Series Projector Screen & Netting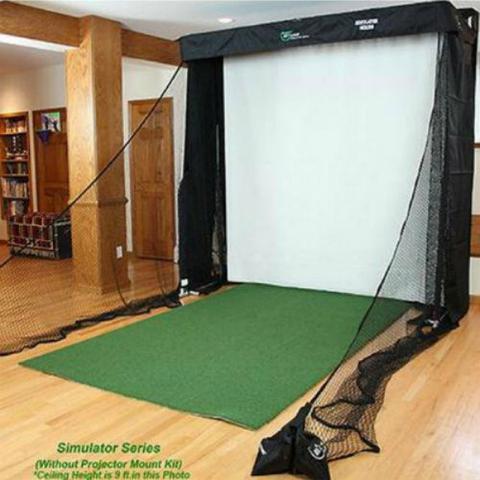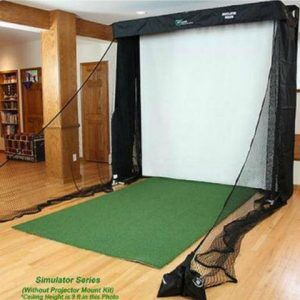 To check out more detailed reviews about the best golf simulator, check out our page here. For more ideas about golf simulators, nets, screens, monitors, etc., visit our website.
Featured Articles