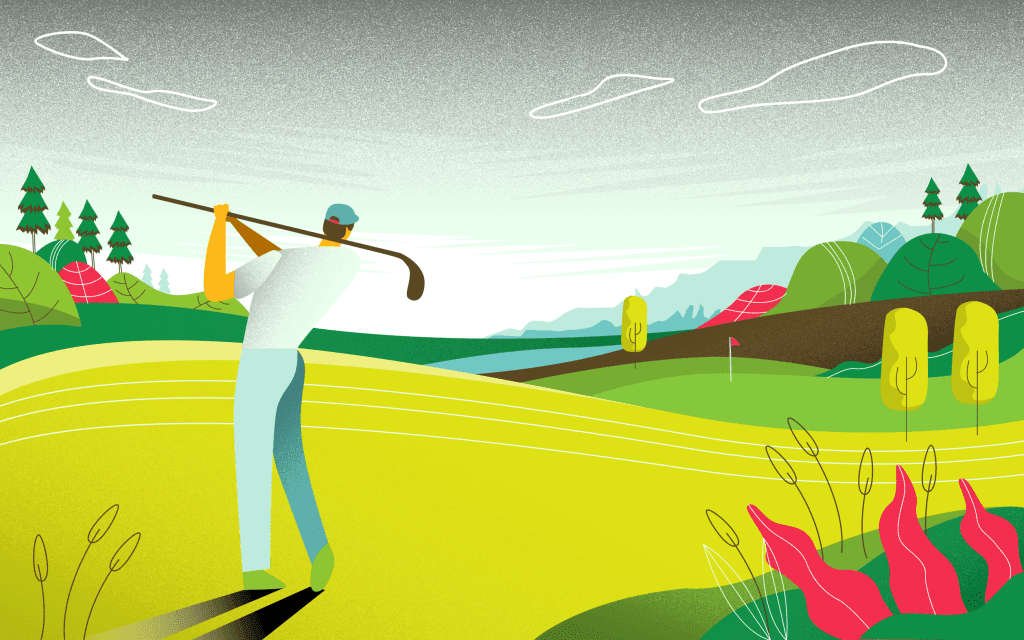 Best Golf Cart Batteries Reviews
Disclosure: We may get a small commission when you shop by clicking on the links on our site. This is at no additional cost to you. Learn more.
You took the first step in buying your golf cart. Now, you need the battery to power it.
The market has dozens available to you but not all your options will benefit you or have what you need. It can be a daunting task to decide which battery you should buy. You need to consider various factors before you make your purchase like the price, longevity, type of battery, and more.
If you're an avid golfer, you want to make sure you're making the right decision since it's a very expensive one. The right battery can make all the difference not just in performance but in the cost to replace it and maintain it [1]. You don't want to end up with a battery that performs great but requires more time working on it than you are on the golf course.
The good news? We discovered the best golf cart batteries. We also found the best golf cart battery for those who are looking for specific categories. Let's take a look at our golf cart batteries reviews!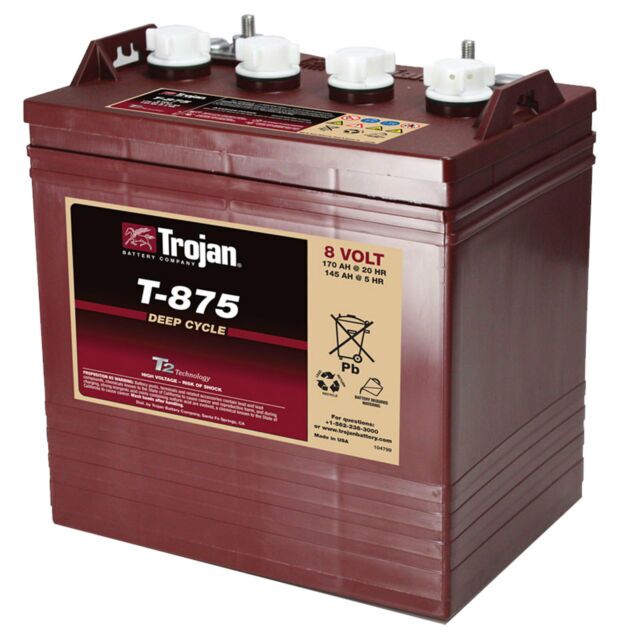 T2 technology for protection and longer usage
Can handle rougher terrains
No maintenance required on the battery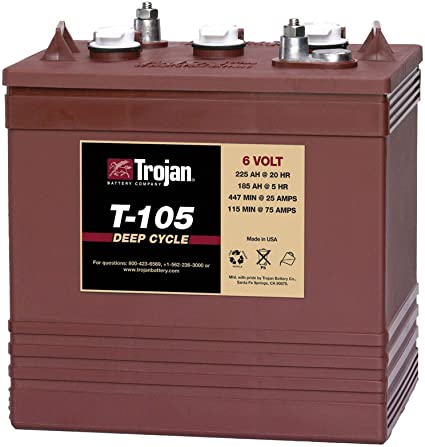 Latest battery technology for better performance and longevity
Versatile among other vehicles
Has the best quality for the price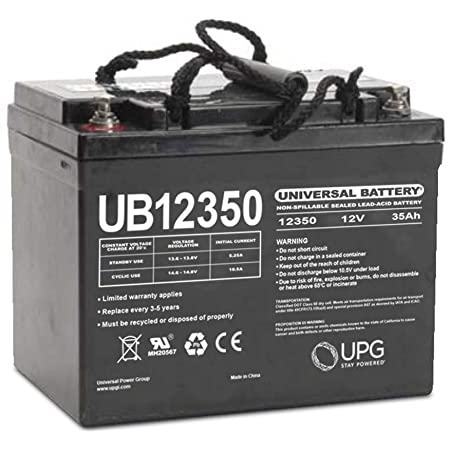 Two batteries for the price of one
Doesn't require training to install.
Versatile with home systems, ATVs, wheelchairs, and snowmobiles
---
Our Favorite Picks for Golf Cart Batteries
---
What to look for in a battery?
Golf cart batteries are essential to run your golf cart. Without them, you can't move! However, it's not as simple as throwing a battery into it and using it. There are factors you want to consider before you buy a golf cart battery.
The first step to choosing a battery involves that you know which type of golf cart you have. Some carts are electric-powered, but others use gas. You need to know if you own an electric cart which system it runs on (6V, 8V, or 12V). You may even have a cart that uses lithium-ion batteries.
Another factor you may want to consider is the amperage. The amperage determines how far you can take your golf cart on a single charge. For example, the longer your batteries last while you're on the course the longer you can play or navigate. You'll look for Ah on the battery.
The price of the battery might have importance to you. If you're on a budget, you'll want to try your best to stay within that budget regardless if you buy online or shop in person. You still want to make sure that the battery you buy does what you need.
Types of Battery
There are four types of golf cart batteries with Deep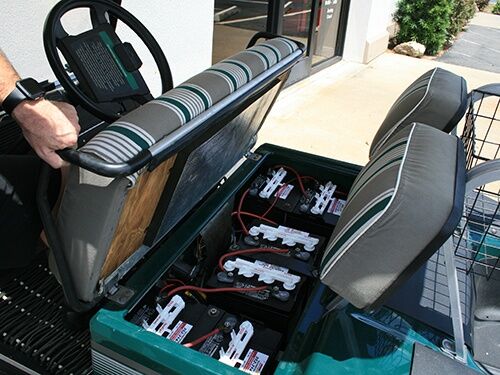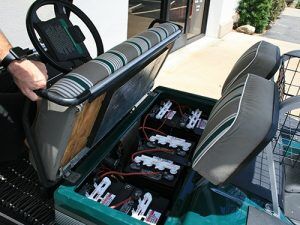 Cycle as the most common:
Flood Lead Acid [2]
Batteries (wet cell) – Batteries you fill with water and the most common type used in
golf carts.
AGM Lead Acid Batteries – Rarely used among golf carts but work similarly to
Flood Lead Acid batteries.
Lithium-ion Batteries – These batteries are becoming more popular because of the benefits they have over other types.
Battery Systems
Visually, you can determine how many cells each battery has by locating the cells. A cell is distinguished by the battery cap used to water the batteries. Each cell in a golf cart will represent two volts. We'll look at the most common batteries we see on the market.
6 Volt Batteries – 6-volt batteries have three cell caps on the top of the battery. Single 6-volt batteries generally have the highest amperage capacity. Usually, it's the greatest among the 8-6 battery systems. These are the best for flat, non-hilly courses.
8 Volt Batteries – 8-volt batteries have four cell caps on the top of the battery. You'll commonly see this type of battery system in electric golf carts. Typically, you'll see them in a 6-8 battery system. These are the best for more challenging courses that need carts to move quicker.
12 Volt Batteries – 12-volt batteries have six-cell caps on the top of the battery. Single 12-volt batteries have the least amperage capacity, and you'll commonly find them in a 72-volt battery system. These are rare among golf carts. However, it's commonly used in a 4-12 battery system.
Golf Cart Battery Summary

Image

Product

Purchase

Best 6 Volt Golf Cart Batteries

Trojan 6 Volt Battery T-105

Up to 750 charges and 200 rounds of golf
Lowest cost amp-per-hour battery on the market
Multi-use for solar and wind electric systems

Best 8 Volt Golf Cart Batteries

Trojan T-875

MaxGuard Separator to extend battery life
Alpha Plus paste to extend run time
Low maintenance

Best Golf Cart Batteries 12V

Universal Power Group Sealed AGM Battery 12 Volt 35 Amp Hour

Comes with two batteries instead of one
Molded top and side connection terminals for added durability
High current and deep cycling for better performance
FAQs
How Many Batteries in a Golf Cart?
Electric golf carts rely on lead-acid batteries or lithium-ion batteries to operate. In the average golf cart, it will require around four to six batteries to run properly. In rare cases, you'll come across a golf cart that uses eight batteries.
How to Maintain Golf Cart Batteries?
Batteries need to be cleaned and maintained because the batteries are filled with acid and lead plates. These work together to produce a chemical reaction that holds the power to drive your cart. When you maintain your battery properly, it can last up to seven years as opposed to less than two years when improperly cared for.
You need to water your batteries on a monthly to quarterly basis. However, there are some tips you should follow before you water them. You only want to water them when the battery has cooled from a charge. Don't water the battery before you put it on the charger. This can cause acid overflow and damage to the battery. Don't use mineral water or tap water. Use distilled water only! Make sure the cell's fluid never dips below its plates because oxygen can damage the plates. Never let water levels in the battery touch the plastic lip that goes into the battery. Too much water can lead to acid overflow and cause damage.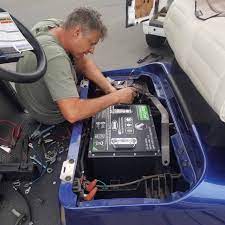 To remove acid and corrosion, there are a few methods you can follow. First, neutralize the acid on the batteries with a mixture of baking soda and water. Spread this mixture over the batteries. You'll see bubbling when the acid becomes neutralized. Then, use water to remove the mixture. It will stain the area you remove the mixture on, so it's best to clean your batteries over dirt or rocks. Once they're cleaned, use a towel to remove any remaining grime.
You can use battery cleaners that come in a can. These are less messy and easier to clean with. Once you have cleaned the batteries, you want to make sure you clean the cables and terminals too. You can use a wire brush to remove corrosion and any debris.
How to Test a Golf Cart Battery Charger?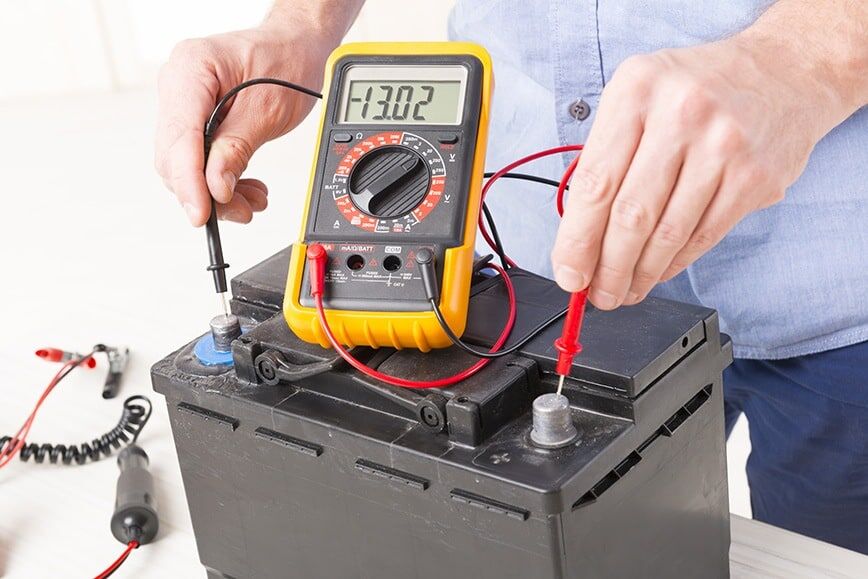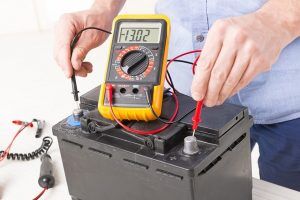 The first step to testing your golf cart battery charger involves you turning on the battery charge to see if any power is going to the battery. This is done by connecting it to a voltmeter to the negative and positive clamps. If the voltmeter needle moves to the left mean no power, all the way to the right means full power.
Next, examine the cables to see if there's any damage. Turn the ignition to the auxiliary option and if the charger doesn't turn on, then there are connection issues. You should hear a humming sound from the transformer when it's plugged into a working outlet.
Check that the wiring doesn't have any frays, cuts, or corrosion on the terminals and cables. Also, check that the grounding wire from the battery charger is connected.
Ensure that the charger fuses in the service panel of the back fender of the golf cart aren't blown. If it is, you can't charge your battery. Pull the caps off the battery terminals. If you see a brown or gray liquid, then it's time to replace the battery. Make sure your battery charger isn't overheating and is clear of debris and corrosion.
How Long Do Golf Cart Batteries Last?
Golf cart batteries last about seven years when taken care of properly. When you don't take care of your battery properly, it has a lifespan of fewer than two years.
---
Best 6 Volt Golf Cart Batteries
---
Trojan 6 Volt Battery T-105 – Best 6 Volt Golf Cart Batteries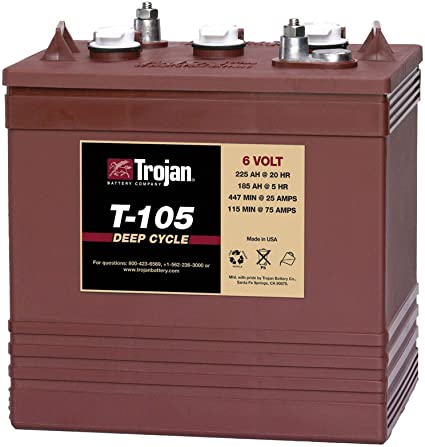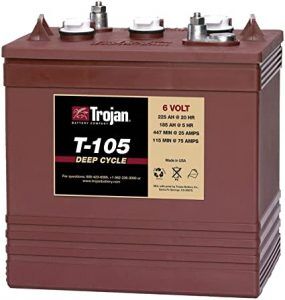 Product Specifications and Features
Voltage: 6V
Discharge rates: 115 minutes at 75 amps or 447 minutes at 25 amps
Amperage: 225 Ah capacity
Flood Lead battery
Terminal Types: UT, AP, WNT, and LPT
---
Durability
Value for Money
Versatility
---
Description
Trojan is one of the leaders in battery packs since the 1920s. This unit is one of the most used flood leaded battery made by Trojan. It doesn't take much time to charge the battery, which makes it great when you feel the sudden urge to play a golf match. The T2 technology offers 750 deep cycles of energy and prevents degradation.
You have a large discharge rate that will let you play a full game without worry. The battery weighs around 62lbs, which weighs much less than the standard battery. You're able to purchase with different terminals (1) too. This model is great for those that need versatility. This battery can power more than your golf cart. It can be used for your RV, boat, electric car, or floor machines. The added Alpha Plus paste formulation makes for a longer-lasting battery and run time.
What We Like:
Reliable and durable
Latest battery technology
One-year manufacturer's warranty
Lasts a long time
What We Don't Like:
Requires high maintenance with watering and cleaning the terminals
---
VMAXTANKS 6 Volt 225Ah AGM Battery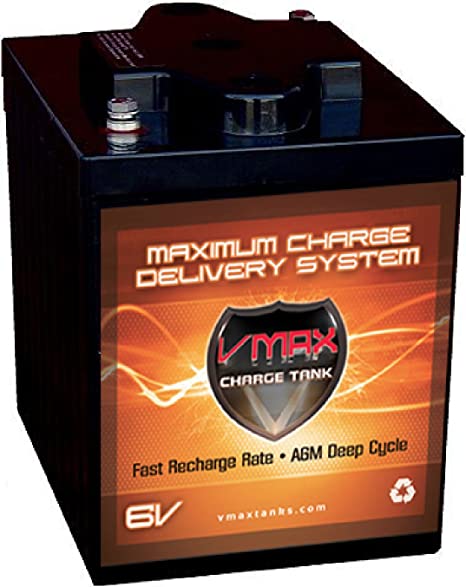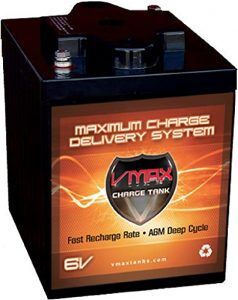 Product Specifications and Features
Voltage: 6V
Amperage: 225Ah capacity at 500 minutes
Battery Type: AGM
Energy: 1.55kWH
---
Durability
Value for Money
Versatility
---
Description
The VMAXTANKS is considered one of the best lead-acid batteries for golf push pull carts. It has a deep cycle capacity that lasts for about 45 hours on a single charge. The AGM battery comes with technologies that other batteries lack. It uses Absorbent Glass Mat technology. This technology keeps the battery sealed and doesn't contain any liquid electrolytes in the battery (2). Instead, the battery consists of glass fiber mat where the electrolytes surround the lead plates. This design allows you to position the battery any way you wish because it can't spill or leak.
These types of batteries require little to no maintenance because you don't have to constantly check and replace the water or electrolyte levels inside the battery. AGM batteries typically last longer than traditional batteries. The VMAXTANKS has a battery life of up to ten years when properly cared for. The heavy-duty grids allow for better performance and service life despite repeated discharges.
What We Like:
Eight-to-ten-year battery life
Versatility
Spill-proof design
Heavy Duty Grids
What We Don't Like:
Requires an AGM charger
A little on the heavy side compared to other batteries
---
Best 8 Volt Golf Cart Batteries
---
Trojan T-875 – Best 8 Volt Golf Cart Batteries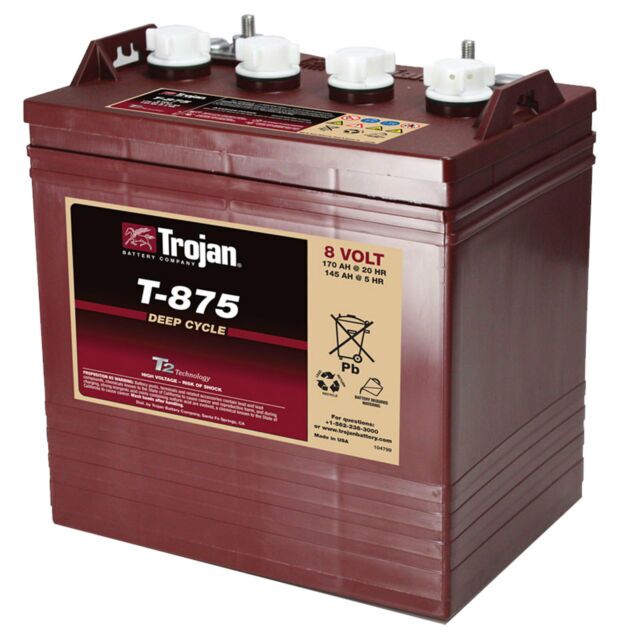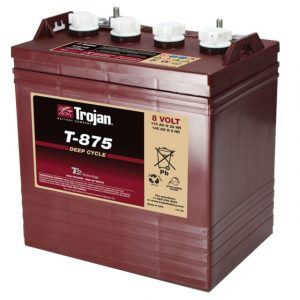 Product Specifications and Features
Amperage: 170Ah capacity
Voltage: 8V
Discharge Rate: 295 minutes at 25 amps
Flood Lead Acid Battery
---
Durability
Value for Money
Versatility
---
Description
The Trojan T-875 comes from one of the top leading brands in batteries. The Trojan uses T2 technology, which is state-of-the-art technology that helps to keep the battery life extended and run time longer. The MaxGuard Separator offers a longer service life. This means you have to charge the battery longer, but you get more usage out of it. The Alpha Plus paste formula lets you use the battery for a longer time. This means you can play more rounds of golf without having to constantly charge the battery.
This battery is built for optimum performance. It's designed to withstand the rougher terrains you may encounter like hills or bumpy ground. Since the battery is a wet cell, you do have to check the water levels and clean it monthly. It has a lifespan that should last you about 50 miles of golfing. The terminals don't come with the standard L setup, so if that's something you have, keep in mind it won't be compatible with this battery.
What We Like:
High durability
Up to 650 cycles
Comes with a rugged case
Versatile
What We Don't Like:
---
Universal Power Group UBGC8 8 Volt 200 AH Golf Deep Cycle AGM Sealed Battery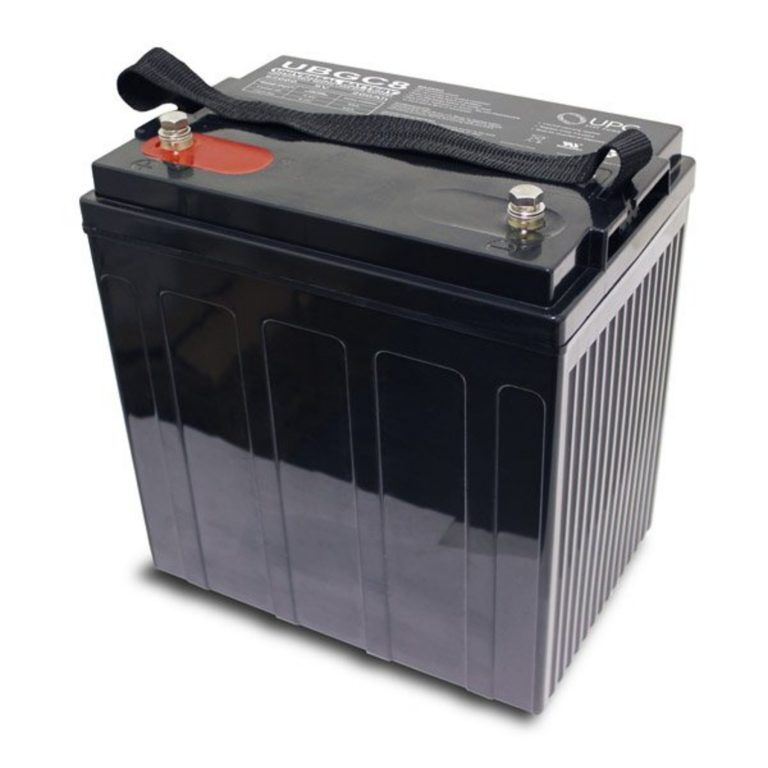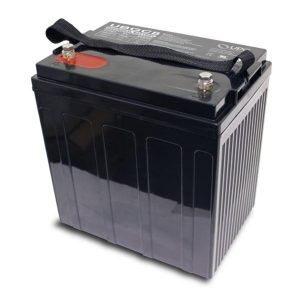 Product Specifications and Features
Amperage: 200Ah
Voltage: 8V
AGM Battery
Charging Initial Current: 57A
---
Durability
Value for Money
Versatility
---
Description
The Universal Power Group that's designed with state-of-the-art technology in Asia. This battery uses AGM technology that provides you with less maintenance upkeep. It doesn't have spills or leaks because it has a seal. You aren't required to fill with water or electrolytes to keep it running. Since the battery is sealed, you can mount it in any orientation without problems. Unlike the other AGM battery we reviewed, this one doesn't require any specific brand charger meaning you can use what you have handy. It has a dual-purpose design that allows for better performance and better battery life. It has a float and cycle use for emergency uses if your battery's main source of power becomes compromised.
It has a high discharge rate which means you can charge your battery quickly and get to the golf course faster! It has a capacity of about 200Ah which gives you more time on the course to play more rounds.
What We Like:
Spill-proof battery
One-year warranty
High discharge rate
Valve regulated
What We Don't Like:
---
Best 12 Volt Golf Cart Batteries
---
Universal Power Group Sealed AGM Battery 12 Volt 35 Amp Hour – Best Golf Cart Batteries 12V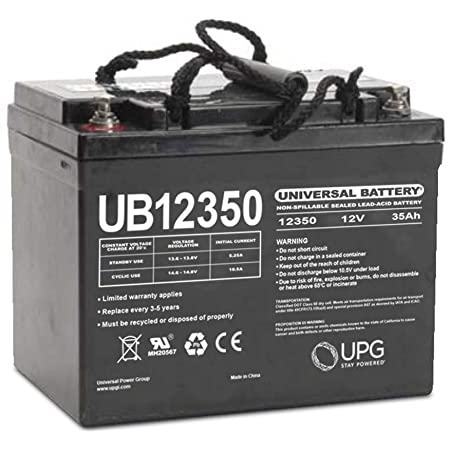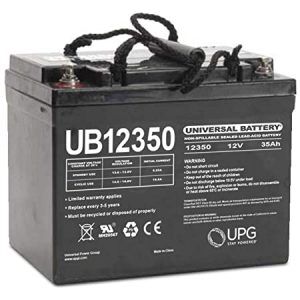 Product Specifications and Features
Battery: AGM
Amperage: 35Ah
Voltage: 12V
Control Voltage: 14.6 – 14.8V
---
Durability
Value for Money
Versatility
---
Description
The UPG battery has AGM technology. This technology was designed for better performance. AGM technology has electrolytes suspended in fiberglass mat separators that surround the plates. This allows the battery to be orientated in any position without any spills or leaks. You don't have to worry about any maintenance with this type of battery. You don't need to check water levels or clean your battery on a schedule like a traditional battery.
The connection terminals are molded on the top and the side to provide versatility, strength, and durability. The battery itself has incredible versatility where you can use it for your boat, ATV, motorcycle, and snowmobile. The UPG battery has a lower self-discharge than other models we reviewed. This means you'll spend more time on the golf course than waiting for the battery to charge. You also won't experience vibration, heat, chemical, or shock issues because of the excellent resistance.
What We Like:
Lower self-discharge time
Designed to be spill-proof and leak-proof
Resistant to shock, vibration, chemicals, and heat
Versatile with ATVs, boats, and snowmobiles
What We Don't Like:
Doesn't last very long on a charge
---
ExpertPower 12v 33ah Rechargeable Deep Cycle Battery [EXP1233]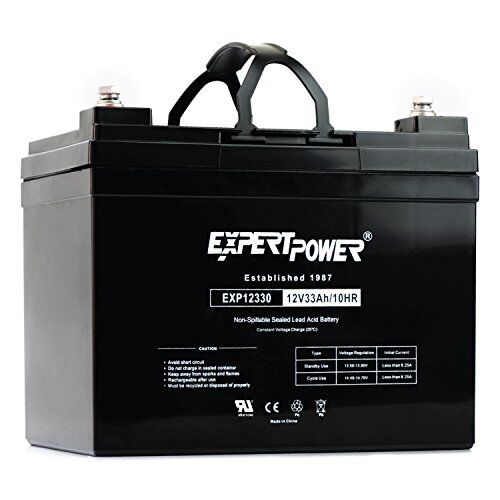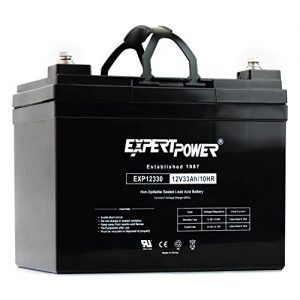 Product Specifications and Features
Battery: AGM
Amperage: 33Ah
Voltage: 12V
Terminal Type: B2
---
Durability
Value for Money
Versatility
---
Description
The ExpertPower battery has a wide range of versatility. It can power scooters, wheelchairs, ATVs, boats, snowmobiles, home systems, and even medical devices. The battery doesn't require much maintenance like standard batteries require, so you won't have to worry about problems with running out of fluid and can withstand higher temperatures. It uses AGM technology that seals the battery from leaks and spills. This allows you to orientate the battery in a position that suits your needs.
It also comes with a case surrounding the battery for extra protection for when you partake in rougher activities like ATVing or snowmobiling. Many 12V batteries require knowledge and training to install them. However, this one is user-friendly and only requires an easy, one-time installation. The battery is lightweight compared to most batteries, weighing in at only 22lbs.
What We Like:
Easy installation
Case around the battery
Lightweight
Can power home systems
What We Don't Like:
---
Conclusion
The Trojan T-105 is the overall winner of the best golf cart batteries for those that want a battery that won't cost them an arm and leg but still performs like the higher-end batteries. It has an outstanding performance for the price and offers versatility if you want something that has more than one use. The battery itself is designed with longevity and durability and is perfect for remote controlled carts. It includes the most up-to-date technology that helps keep the battery from degradation and a longer run time. If you're looking for a battery that does it all and doesn't break the bank, then the Trojan T-105 is the battery for you.
Best Overall Pick
Trojan 6 Volt Battery T-105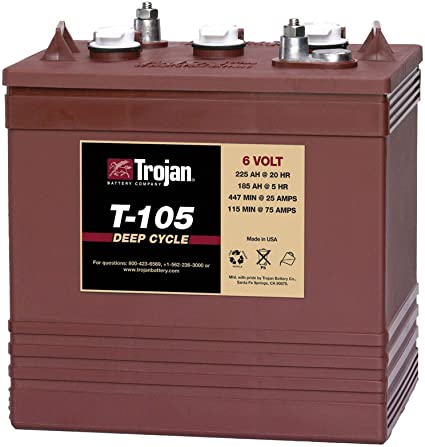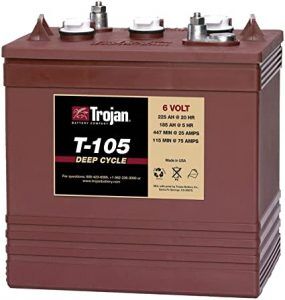 Trojan T-875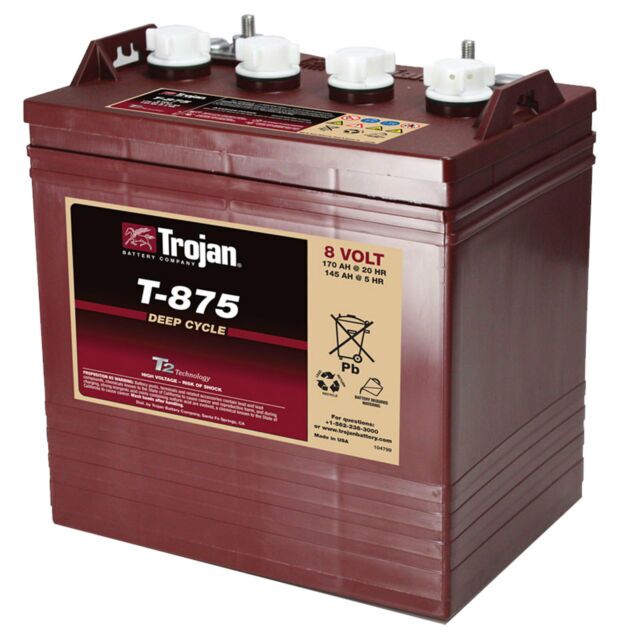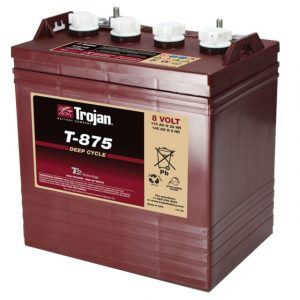 The Trojan T-875 is the ideal battery for those that need an 8V battery to withstand tougher terrain. Generally, many people don't use an 8V battery for their golf carts but sometimes they're needed for the extra power like more challenging courses that contain hills or rocky terrains. It comes with technology that's designed to allow you to play for longer without having to charge the battery. this technology also helps to preserve the battery long-term. On average, you can travel about 50 miles on the golf course on a single charge. Who doesn't want to have a battery that lets them spend more time on the course?
Universal Power Group Sealed AGM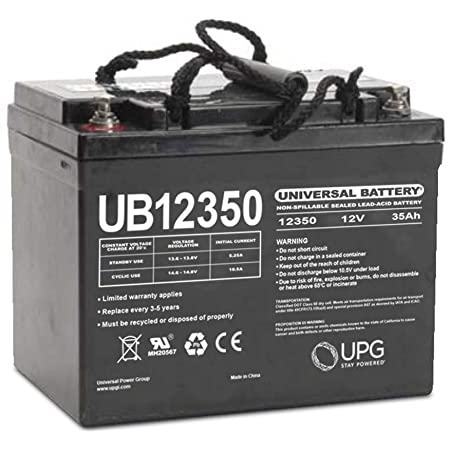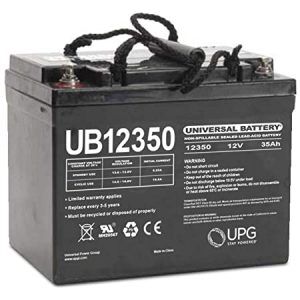 The UPG battery is the ideal battery for someone who needs a battery that comes with versatility and has high power for rough terrain. You can use this battery to power your ATV, snowmobile, or boat. It even comes with an extra battery, so you don't have to choose between which vehicle you want to power. The lower self-discharge makes the battery worth the purchase because you don't have to wait for hours before the battery's charged and ready to use! This allows you to spend more time on your favorite activity!
If your a beginner who wants to up the game and hone skills, check out our helpful reviews written by golf experts. You might learn something that could help you build your game.